XPages View Pager - Advanced edition
---
XPages does a fe nice things automagically for you. Thinks like giving you the content of a view page by page. While this is impressive on the first view a lot of the potential users would like to see more options in that navigation/paging control. This got me thinking and I drafted how the "Ultimate View Navigator" would look like. After all Bob Obringer designed his classic Domino
navigator
partly based on my suggestions (Unfortunately Bob's blog is gone). So I doodled around with my
favourite screen design tool
and here is what I came up with: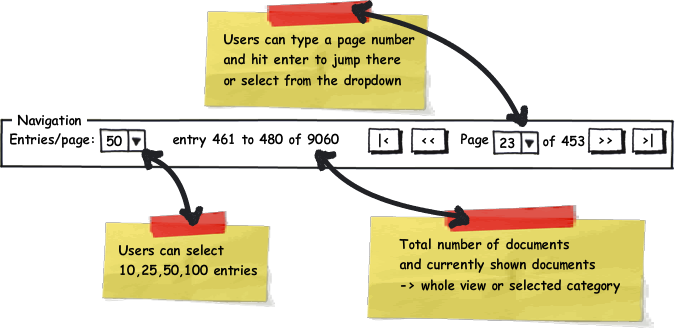 I think it covers all the usual bases. A few caveats: It hasn't been designed for categorised views, but will display single category selections well (for my view on categorised views, check my
earlier post
). It also will not perform nicely when you use reader fields protected documents (and again that
topic has been covered
before). Did I miss anything in the UI?
---
Posted by Stephan H Wissel on 10 September 2009 | Comments (10) | categories: XPages