Visualize using Mindmaps
---
Mindmaps
are an incredible tool to collect and share thoughts on any topic in a very compact and comprehensive format. Just look at the sample Ernest did for Water (his current topic in science):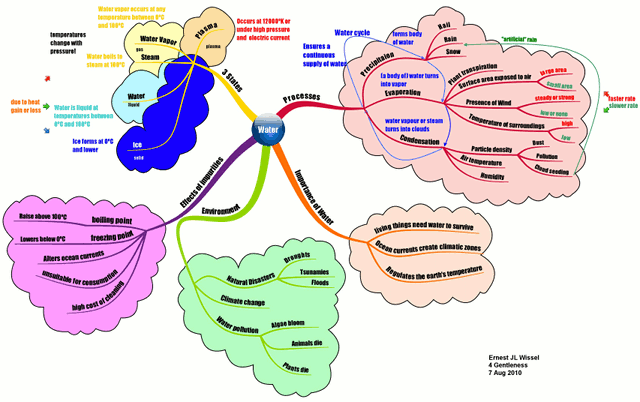 He used
iMindmap
which has the most natural look from all mindmap software offerings I've seen so far (and is available on Win, Linux, Mac and iPad). It is the commercial offering of
Tony Buzan
who claims the invention of mindmapping. If you like
eProductivity
, you might want to look at
MindManager
, which is primarily Windows (there's a Mac version that's usually behind and there's no Linux version) and can be imported into eProductiviy. Notes user will find
MindPlan
intriguing. It is available on all Notes client platforms, can show data in MindMaps and Gannt charts and uses NSF as its storage engine. Sharing and collaborating on MindPlan is a breeze. For fans of OpenSource there is
FreeMind
also available on many platforms. A very different approach is used by
The Brain
, which allows to dynamically navigate the map and put
any
topic into the center. Once you are ready to get frequent updates on what's up in the mindmapping software scene, subscribe to the
Mindmapping software blog
.
---
Posted by Stephan H Wissel on 15 August 2010 | Comments (6) | categories: After hours Software Twins