Red Hat Forum and attention to UI details
---
Redhat
is conducting a Forum in Singapore, Kuala Lumpur and Bangkok. I found
their invitation
in my eMail today. While the signup form contained the usual lead-generating questions it showed the hand of a careful Ui designer: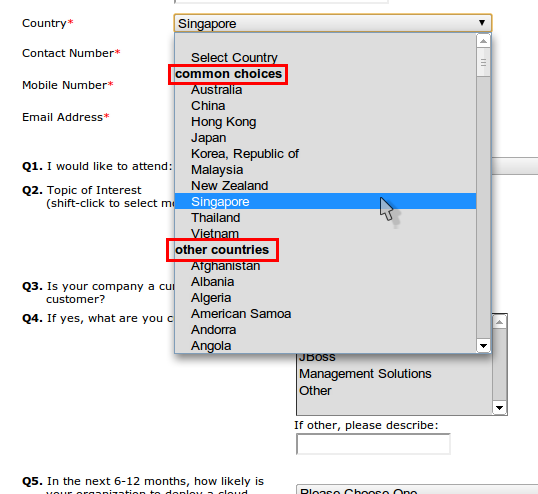 For the forum one is most likely to attend from one of the 10 countries listed and stated first, releaving users to scroll through a list of places you never will see unless you click on a "Select country" dropdown. I particularily liked the clear labeling as "common choices" and "other countries". Mincing for words one could opt for "popular choices" and "all countries", but that would be the sprinkle on the icing on the cake.
Go and
sign up
. See you in Singapore Dec 3.
---
Posted by Stephan H Wissel on 09 November 2010 | Comments (1) | categories: Software