Grandstream GXV3140 VoiP Phone and Skype #fail
---
From time to time I check the Skype website to see what gear is new. My current
LinkSys iPhone
worked reasonably well but the rubber keypad starts degrading and the speaker phone never was great. When I saw the
Skype advertisement for the Grandstream GXV3140
I thought to give it a shot, especially since it carries the label "Skype certified".
The
Grandstream website
didn't list a Singapore retailer, so I contacted them through their ticket system. They were very fast in their reply (well done!) and pointed me to the Singapore distributor
Micro United Network Pte Ltd
. They called me the following day to see what they can do for me. So far a very pleasant and swift experience. It turned out that the phone is sold at
Mustafa's
department store. Mustafa is South East Asia's biggest department store and open 24x7. If you come to Singapore it's a must visit especially in the wee morning hours. It's not the high end store, but you get any category of things, from high tech to a cheap Tuxedo for your 3 year old. I love that place. It's brimming with life any time. The phone section had 2 sets on display demonstrating a video call over 4m distance. So I got myself one.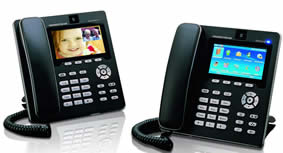 The phone requires a network cable (a optional WIFI module is available) and can be configured through the phone keyboard and screen (you actually can attach an USB keyboard and mouse) or through a web browser. The phone is preconfigured to use the IPVideoTalk SIP server for the first of 3 configurable accounts (for a full review of the phone check out the
TMC Blog
). It turned out that the Firmware didn't have Skype support yet and I had to update the firmware. Grandstream
provides instructions
. It was as easy as pointing the firmware download URL to the
Beta site
and reboot the phone. This was were the fun ended (and I'm not talking about the Twitter implementation being broken or the scary SIP options menu):
Skype is hidden in the Social Software menu, it takes 7 key presses to make a call (9 if the number is not in the contact list). There would be a spare soft key for that
I can't select Skype as the primary phone (like when I pick the handle I'll make a Skype call)
Skype chats are deeply hidden in the menu even when a new chat is coming in
An incoming Skype call disrupted playing Last.FM (good), but it didn't resume after the call finished (bad)
Video chat doesn't work. It turns out to be a Video codec issue. The GXV3140 only supports H.263 and H.264 but not VP7 which is Skype's native video codec. On Windows (and Windows only) Skype seems to be able to use H.263/H.264 (can't verify that since I don't have Windows here), but neither on Linux nor Macintosh.
The forum entry has a lot of questions, little answers.
So currently it feels Skype is "bolted on" rather than integrated. To be fair: the Firmware is still labelled beta, so there is hope.
---
Posted by Stephan H Wissel on 30 October 2010 | Comments (2) | categories: Software